Wednesday 3rd March
Below you will find all the learning for today. This includes reading, writing, maths and foundation subjects (Science, Geography, History, R.E, etc).
The coloured activities should be completed if your child is in that group in class.
All reading texts and learning worksheets can be found at the bottom of the page, some reading texts will be posted Monday and will be used all week.
Videos are provided for new learning and to support learning where it is beneficial - please watch them, you can pause and re-watch them if they need to.
Reading - Holes by Louis Sacher
Today we will read from the start of chapter 5. Stanley's first day at Camp Green Lake. We will stop reading where it says: "It's Squid, and that's X-ray."
Summary -
Summarise the events of Stanley's life - that we know about - up until this point.
Clarify -
Wearily -
like gentlemen -
Clarify any other words or phrases that you are unsure about yourself. It is important to read everything that we read, so clarifying is really important.
Question -
Retrieval Questions:
Which tent is Stanley to call home for the next 18 months?
Who is Mr Pendanski?
Who does he say that is the only person Stanley should worry about is?
Inference Questions:
Why does Stanley decide not to tell Mr Sir that he was innocent?
What does Mr Pendanski say to try to make Stanley feel better about being here? (3 marks).
What does Mr Pendanski look like?
Explanations: Green and Yellow
Why would the 2 boys Mr Pendanski calls over not be keen to talk to Stanley?
Predict -
Who are Squid and X-ray? Why do you think they are here? Why were the pair of them so dirty?
Do not answer these questions 1 by 1, they are to get you thoughts going. Predict as much as you can about the 2 boys using all we know so far to support your answer.
Writing - The Highwayman
In this lesson you will use all the vocabulary planning we've done so far to help us plan a 'close up' narrative opening of the story.
Your writing warm up is reminder of sentences with main and subordinate clauses - remind yourself of these with the song from Monday.
Today you will be planning a setting description of the first part of the poem, you will need to think about four elements of the setting, the sky, the moors, the trees and the highwayman. As you work through today's teaching video you will gather words and phrases to use in your writing tomorrow. Be careful to organise your plan into four sections as this will help you tomorrow to write in paragraphs.
Green, Yellow, Orange, Red and Blue - All groups today should follow the video clip to create a writing plan for tomorrow.
Maths - Fractions
Green and Yellow - Your lesson is here. Today we will try counting in fractions, use the numberline and the bar model images to help you work out what will come next. You can find the sheet to follow along with the lesson below.
Orange and Red - We are building upon the work we started yesterday looking at fractions that are of the same value. Play the top listed game on this page for practice: https://uk.splashlearn.com/equivalent-fractions-games
Then you can find your lesson here and follow along with you task sheet below.
Blue - Moving on from halves we now will look at quarters: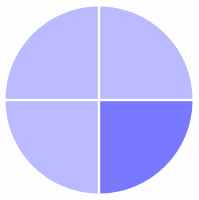 One of four equal parts
Written as 1/4
This circle has been cut into quarters, and one quarter is darker.
Your lesson link is here and your activity sheet is located at the bottom of this page.
Foundation - PE and Assembly
PE: Choose an activity to do with your family:
Go for a walk
Remember to follow the Covid safety guidelines. What can you see around your local area that has changed? Can you see any signs of spring coming yet? How is the weather different? Did you see any animals?
Joe Wickes
Can your child on one or all of these days take part in this exercise class. Its a good way to keep up an active lifestyle while in lockdown.
Dance with Oti
Type this in the search bar of your computer- or you can find it on BBC iplayer.
Can you join in with one of Oti's Boogie Beebies dances ( they are not as easy as you might think)
Assembly:
This week's assembly can be found here. Look for the document that says Picture news at home, with this weeks date on it. This contains your activity. If you need extra information the page also has a video link which will help you.